Arkansas wedding photographer // destination wedding and portrait photographer
Sunday, February 18, 2007
Meredith saw the photos I did of Courtney (see: post production) and she wanted me to do similar ones for her...
I love this photo of her...
Monday, February 12, 2007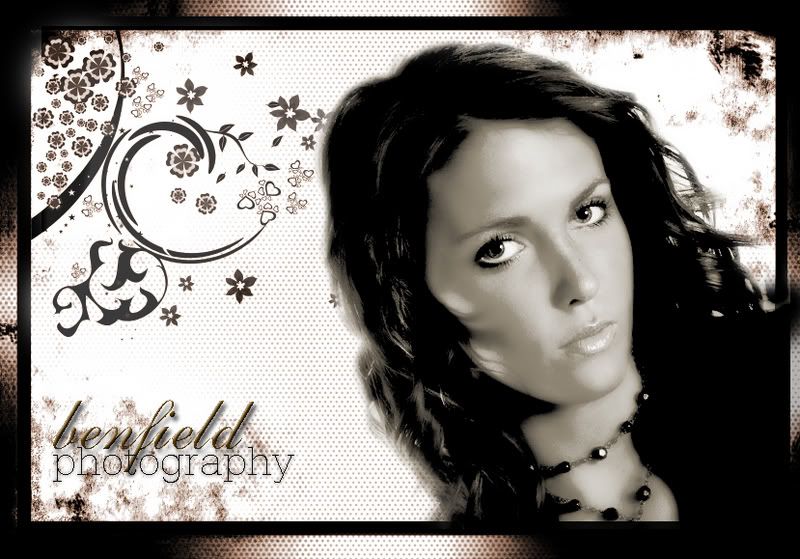 Today I was inspired to make a creation using some portraits I took a little while back. I love the way they came out. Photoshop is so fun!
Sunday, February 4, 2007
The last few weeks have been SO weird...

Last Thursday, we should NOT have had school! I was heading to school (when I should have been in bed!) and slid on ice and ran into an F150. It tore the front of my car to pieces which flew all over the road. I honked to have the other driver speed up or move their car in any way possible, but he said he didn't hear (AWESOME!). Anyway, to sweeten the deal, my insurance agent did NOT add renter's insurance to my policy after I asked him to 4 months ago.

I learned Flash a couple weeks ago when we got out of a full week of school due to weather. While most people were likely being unproductive (due to electricity outages and/or laziness), I studied the program for the entire week and remade my website: www.benfieldphtography.net - Check it out!

To brag on myself, which I rarely do, I'm very pleased to say that a magazine for yearbook advisers all over the country receive contacted me about writing an article. The article, "Creating Custom Backgrounds in Photoshop," will be published in the upcoming issue. Also, I'm currently writing an article about photographing high school seniors for Rangefinder magazine. It is for their April issue, so I'll have to keep you posted about that.

I've been booking weddings pretty regularly since the wedding fair Meredith and I attended in Springdale, AR, a couple weeks ago. It looks like it's going to be a pretty busy summer, which is good because I'm not sure what the plans are with teaching next year.

One more thing... Crowder College hired me as an adjunct faculty member to teach photography courses. It has been quite a blast! I'd love to do more teaching on the college level.
Hey everybody! Did you ever know something 100% in your heart, but you almost screw it up?  So goes the story of my proposal to Tyler. ...

Hey everybody! Man, oh man... I've got some dream wedding reception details to share today! This fancy gold and ivory wedding is prett...

Hey everybody! Here's what I love... Meredith has developed a very unique style when it comes to boudoir. She's not that "one...